A focused interview (on Skype) can be every bit as good as an ebook
This morning I called my good friend Igor Kheifets on Skype.  For a change this wasn't to have a chat or pick his brain for advice on internet marketing – I was to interview him. With a view to creating an mp3 that we could turn into a product.
We were due to do the interview over a month ago, but both of us got busy and had to put the date back. The lull of the post Christmas period allowed us to schedule the long call and on Boxing Day, while most of you were still nursing overeating disorders, we got stuck in.
We spoke for just under an hour about list-building. At the end of it, Igor commented that we'd perhaps gone a little too broad – as a result our focus was less than 100%. That said, we did cover a lot of helpful content on the subject of list-building – it was the kind of conversation I wish I'd been in on when I first started internet marketing. Still, we both agreed we could go one better, so we scheduled a second call, agreeing to sharpen our focus and theme.
So this morning we got back on Skype and did Call Number 2. Igor was very happy with the interview and said he was keen to add the produced recording as a special bonus to his next product. I anticipate doing the same for my next launch – Be My List Building Buddy, which should me out mid-late January 2012.
The whole event was something of a step forward for me. It was the first interview I'd done using Pamela (to record Skype) having in mind to use the recording as a product, not a giveaway or an experiment. It was my first interview with an internet marketing expert… and, happily, it went very well for both parties! So, naturally, I plan to do more. In fact, Igor has said we should do a series. Sounds like a good plan to me!
If you can keep an interview tightly focused on the subject you've chosen, you can draw a lot of very useful information from an expert. Too many interviewers, in my view, allow their interviewee to go off-track. The call becomes too 'chatty' and before you know it, you're listening to a pitch. We didn't want to do that. There's no pitch at all in our call, it's 100% content.
Using Pamela is easy
Recording on Pamela – I use the Professional version, as it allows you to record for over 15 minutes – was easy. The finsihed recording is available as an mp3 which you can then edit and produce.
To improve on the sound quality, I set the  two-way call recording mode to: 'Save sound in stereo mode'. When you're in Pamela, just go to Tools > Options > Advanced and click on the second option half way down the page, as you see in the screenshot below. The stereo option will make it easier for you to 'clean up' in post, which you can do in Camtasia.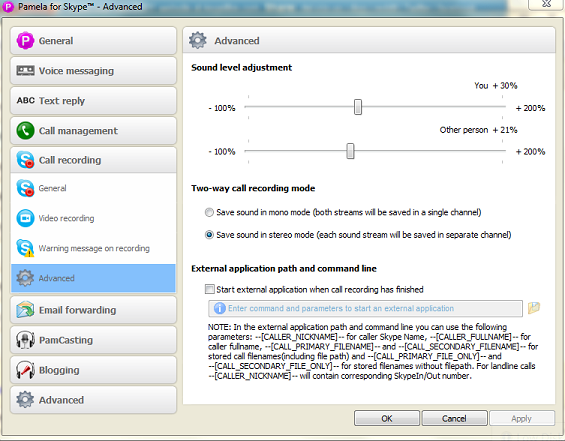 Really, I don't know why I took so long to do one of these. Technophobia, perhaps – yet one more bit of technical crap I had to get my head around – but of course it was easy. Even the sound quality was near perfect. We nearly broke up once or twice, but considering we were on the 'line' for nearly an hour and Igor is based in a village in Israel and I'm in London, I was amazed at how clear our voices remained throughout.
Why do Skype calls with experts?
Interviewing experts in your niche is a great way of:
– Creating a product (or the basis for one)
– Building a working relationship with an expert
– Associating your name with said expert
– Pleasing said expert, who may later be happy to help you in a more direct fashion
– Building your 'public speaking' confidence
It's also a lot of fun!
Get on Skype and create an internet marketing product
If you're in internet marketing and stuck for an idea for a product… do an interview. Don't know an expert, go to the blogs of some experts in your niche, get to know their work… and write them a proposal. You'd be surprised how many people will consider your idea. After all, unless you're a complete dolt, it's good publicity for them.
But make sure you're prepared. Don't just wing it. Igor's my friend, but he wouldn't have taken kindly to spending an hour with me just chewing the fat. Me neither, come to that. So, for our first interview (the rehearsal), I wrote out about 8 or 9 questions I would put to Igor and sent them to him so he had an idea of what we'd be covering. After the rehearsal we discussed strengths and weaknesses of what we'd done and agreed on a sharper version for the next, definitive interview. You may not be able to do a second interview with your chosen expert, but the point is: be prepared. Even if you're a nobody, if you can look sharp you will grab the attention of an expert – unless, of course, he's right in the middle of a product launch!
And when you do the interview, keep it moving, keep it interesting. Always have in mind your audience. Are you providing valuable information or just stroking each other's egos? Essentially, you should be teaching here, not just marketing yourself. Well, if I think about it, you should be aiming to blend the two, seamlessly.
From Skype Call to Webinar
Doing a Skype interview is a great way to warm yourself up to the slightly more daunting prospect of conducting a webinar. Maybe not daunting, but you know what I mean…
Now I really have no excuse not to go to the next logical step and start doing webinars for real. So far I've only done a couple – with my kids!
Given I'm a senior copywriter, I think I'll be setting my sites on internet marketers known for their copy skills… "Hey Frank, how's it going?"
Finally… the best internet marketing interview I've come across <==